Xorbia Tickets Online Tickets & Delivery
Not only do we make it make easy for your attendees to purchase tickets but we delivery them the way they want them delivered; print-at-home tickets and their smart phone too.
Print-at-Home Tickets.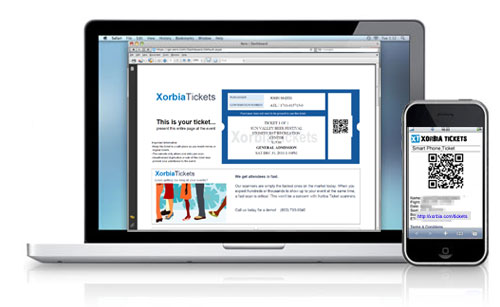 This is a must for events today. It decreases entry time and potential horrific long lines. Each ticket has a barcode on it that identifies it with the attendee. A quick validation scan and their into the event. No muss, no fuss. Delivery. Simple. We send an email within a minute or so of the purchase to their tickets.
Mobile Tickets. The reality is that many people still use the print-at-home ticket but we're seeing a quick adoption by purchasers of mobile tickets for many of the events we're selling tickets for today. Many people these days don't even own a printer and if they do, it's rarely used and who knows if it still has ink in it or not. Delivery. Our mobile tickets aren't just a ticket... they're a reminder too! We send the tickets via text message within seconds of the purchase and send it again within hours of the event. This way, your purchaser has them easily ready to go when they arrive at the event. Guess who isn't cleaning up the mess of all those tickets make at the event? Guess who's being a little green? That's riiight... you!
Custom Tickets. Do your tickets have the event's sponsor logo on them? Wouldn't that create some additional value for your sponsors? We can customize your ticket so your logo, your sponsor's logo and if you're into it, your family crest is on the ticket. Whatever floats your boat. We do this for the low, low price of: free.
That about covers the actual tickets and how we deliver them to the purchaser. Now let's talk about how easy it is validate them at the event or "access control".