Xorbia Tickets Purchase Experience
We don't use PayPal. There... we said it... it's out in the open. But why don't we?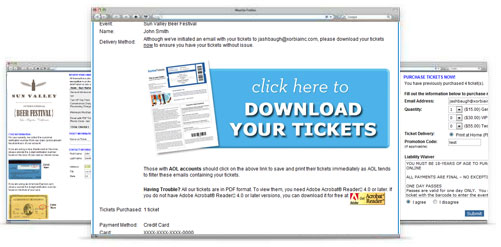 Well, the dirty little secret that many of the off-the-shelf ticket providers won't tell you is that large events don't like to use PayPal when selling tickets. Have you ever seen an event worth their salt use PayPal as a part of their purchase process? That's because professionally run events know that the conversion rate of interested buyer -to- purchaser is much lower with PayPal or any other service that slows down the ticket purchase process.
Large event organizers know that the longer the purchase process the longer the purchaser has time to think about the purchase and possibly change their minds. However, purchasing tickets to a local entertainment event can be an impromtu purchase. You want people to barely think about the purchase, right? They're excited about the event, don't ruin it by making them earn the purchase by remembering passwords and having to type out jumbled words!
We keep the purchase process short and easy for the purchaser. No passwords neccessary and no jumbled words for any purchase. Just two clicks and tickets are available!